Food Donations Near Me/Leola PA
Are you or someone you know searching for a place to donate food? Consider Blessings of Hope before calling your local landfill. Find quick bullet points on our logistics and impact on this page.
Reduce food waste and combat food insecurity when you donate food to Blessings of Hope! This can also provide tax deductions and improve your bottom line. We accept items that are:
Over Produced

Over Shipped

Mislabeled

Misshapen or Unattractive

Close to the Expiration Date

In Damaged Boxes

Any Other Reason That You Want to Donate It
Logistics
Our logistics team picks up your food donations throughout the Northeast, Southeast, and Midwest regions.

Items are redistributed to hunger relief organizations who serve their local communities. 
Network
Partnerships with over 1,100 nonprofit organizations that distribute food throughout the Mid-Atlantic region.

Incoming food supply is cross-docked, stored for re-delivery, or sorted/packed into our Hands of Hope food boxes by over 12,000 volunteers.

Zero food waste facility in PA and a Food Hub/DC in KY.

All product is utilized, optimizing consumption & avoiding landfills.

Leftover food is composted, returned to farms & gardens for quality produce. 
Impact
In 2020, Blessings of Hope distributed 67 million lbs of food/154,000 meals per day.

In 2021, 370,000 meals were sent to Texas for crisis relief during a winter ice storm (2-week timeframe).

Future Growth- International Shipping, Food Processing, Additional Disaster Relief.
Let's Get Started!
Call our dispatcher at 717-824-1227 (Ext. 108) or 717-466-1551.
Email us at dispatch@blessingsofhope.com!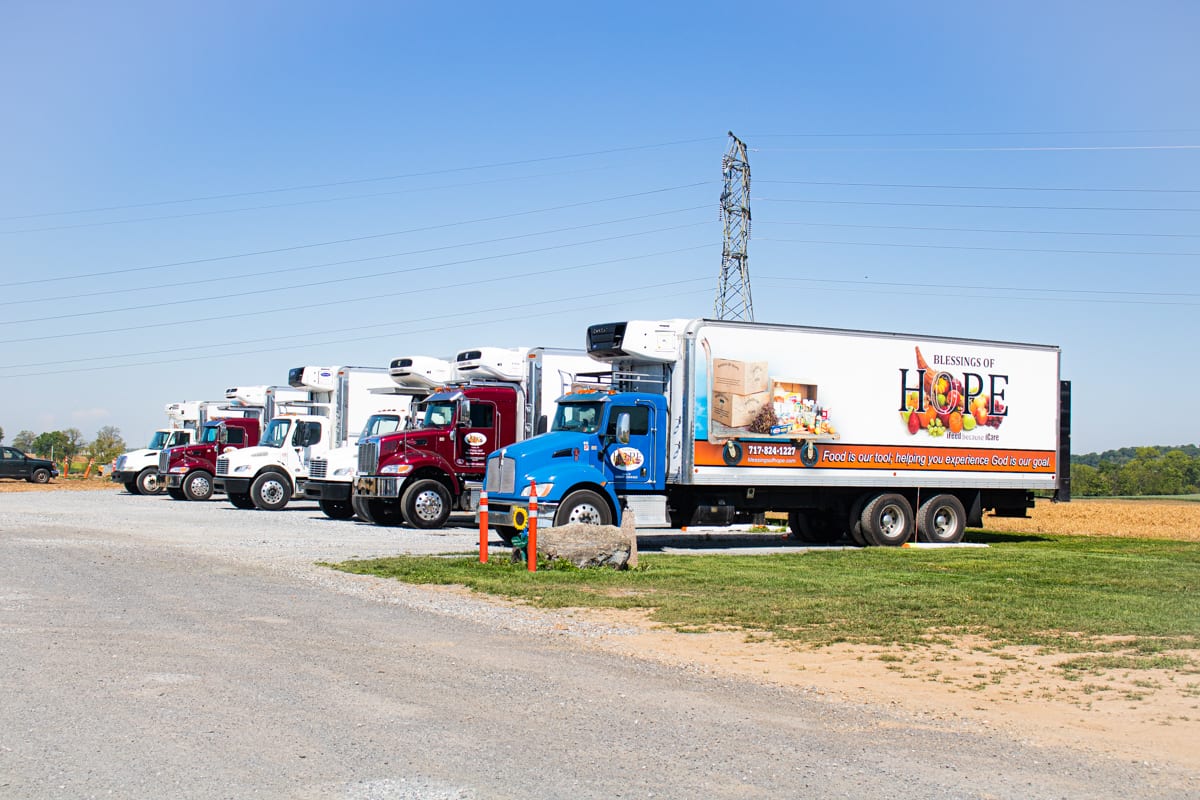 How Food Donations Benefit Your Organization
Donating food items can be very beneficial for your business. Here are just a few things that can happen when you partner with Blessings of Hope in Lancaster, PA. 
Tax Benefits
Tax deductions for donating surplus food can often EXCEED the tax shield earned from liquidating or disposing of food products. In fact, some food donations are eligible for enhanced tax deductions, up to 15% of taxable income as outlined in 501(c)3 nonprofits, section 170(e)(3) of the U.S. Tax Code.
Make an Impact on Local Nonprofits
Your contributions are an investment in the prosperity of the community that surrounds your business. You can feel confident that your food donations made a difference in the lives of local families.
Attract & Retain Staff
Many potential employees particularly the Millennial generation want to work for companies they believe in. Your company's efforts to give back to the community will inspire your current staff and help you attract new talent in the years ahead.
Improve Environmental Stewardship
Americans are more environmentally conscious than ever, actively seeking out companies that put sustainability and environmental stewardship at the core of their missions. Donating your surplus food expands your sustainability profile in the community by preventing unneeded waste from reaching our landfills.
Partner with Blessings of Hope, and let's work together to improve food security for thousands of families across our community!
Call our dispatcher at 717-824-1227 (Ext. 108) or 717-466-1551. You can also email us at dispatch@blessingsofhope.com!
If you have any food to donate after hours (5:00 PM to 7:00 AM) and can't reach our dispatcher, you can call Aaron Fisher directly on his cell phone number at 717-725-0421.