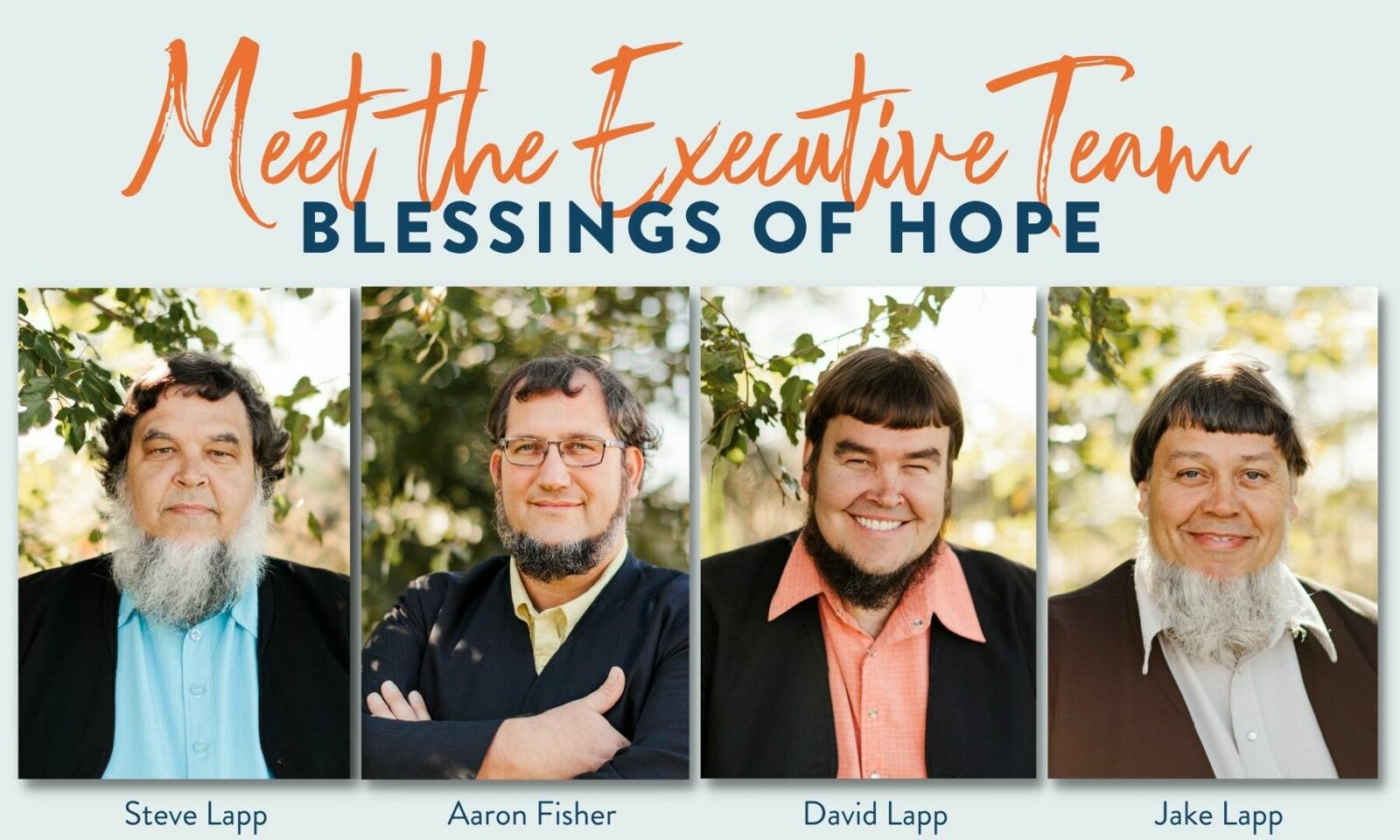 Steve Lapp, Chief Operations Officer
Steve grew up on the family dairy farm as the oldest of 10 children. He developed a strong work ethic at a very young age, and by the time he was a teenager, he had already worked at a welding shop and a fencing company in various managerial positions.
At 25, with his wife and 3 young children, he moved to a dairy farm in Wayne County, IN. At 27 he was in a farming accident that ended his ability to farm. During his recovery, he read extensively about the human body, which led to the study of emotional and spiritual healing through the Word of God.
As COO of Blessings of Hope, Steve creates systems to help make all aspects of the company function and flow freely. He helps create and support the teams that make Blessings of Hope run efficiently.
Steve and his wife, Elsie, currently reside in Ephrata, PA. They have 12 children and 8
grandchildren.
Aaron Fisher, Executive Director
Aaron knew from a young age what it was like to be food insecure and the difference a box of food could mean to the entire family. He was determined to devote his life to helping others.
After working on several dairy farms, Aaron spent five years cutting and assembling at a woodworking shop where he was promoted to assistant manager in charge of the warehouse.
In 2001 he co-founded Decks-R-Us, a full-service deck fabrication and installation company. After 5 years of growing the company to success, he founded Blessings of Hope, a place where large distribution centers could donate their surplus food to those in need. Blessings of Hope has grown into a dynamic and highly successful food hub.  Aaron and his wife, Barbie, reside in Ephrata, PA. They have 5 children.
David Lapp, CEO

David grew up in a large Amish family in New Holland, PA, When he was 13, his family moved to a dairy farm in Indiana. In 2006 he moved his own growing family back to Lancaster, PA.
David is one of the founders of Blessings of Hope and has been on the board from the beginning (six years as treasurer).
Through God's grace, Blessings of Hope had grown to the place where it was clear they needed additional personnel and resources. In 2018 David stepped into the position of CEO, allowing Aaron to focus on other critical management responsibilities such as marketing, development, and fundraising. David's IT knowledge, operational management, logistics expertise, and financial and administrative skills are a tremendous asset to Blessings of Hope.
David and his wife, Fannie, currently reside in Ephrata, PA. They have 12 children.
Jake Lapp, Chief Financial Advisor

Born in New Holland, PA, Jake helped with the family dairy farm as a young boy. As a teenager, he started working as a fence installer and later a shop foreman in a local business.
After his brother Steve suffered from a farming accident, he moved his young family to Indiana. As Steve learned more and more about emotional and spiritual healing, Jake became aware that multitudes of people need emotional, financial and practical help.
Jake is one of the founders of Blessings of Hope and serves as treasurer of the Board. He has
dedicated his life in training people to maximize their potential.
Jake gives prophetic insights and valuable guidance to the executive board. Jake and his wife, Nancy, currently reside in Ephrata, PA. They have 7 children and 3 grandchildren.
Our Mission
The mission at Blessings of Hope is to feed the hungry by facilitating partnerships between food suppliers and nonprofits in a way that brings God's blessings to both. We are committed to empowering churches and ministries to build relationships in their communities through food and acts of love. 
Blessings of Hope at a Glance
We receive food from 200+ sources.
We have over 2,000 partner ministries who receive food from us.
60% of our operating revenue comes from our partner ministries.
We're currently blessed with over 30,000 registered volunteers.
Learn About Our Organization
Would you like more information about Blessings of Hope, the place where hope is brought to the hungry? Access information below from our newsletters, our 2020 report, testimonials, history, and more.
Future Goals
We would like to provide more disaster relief and increase our food preservation efforts. If half of the global food waste could be redirected into the hands of the hungry instead of being sent to landfills, it would end world hunger. We are passionate about utilizing available resources for those in need. Join us in our mission and bring hope to the hungry!
Our History – "It started with packing 7 banana boxes full of food per week."
The organization that Blessings of Hope is today started in 2006. Aaron Fisher recognized that semi-truckloads of food donations are available from large corporations, but most food banks cannot take that volume.
In October 2010, after four years of strategizing and occasionally distributing small volumes of food items, Aaron's vision to bring hope to the hungry began to come to life. It was determined that Blessings of Hope would be formed as a DBA of Light of Hope Ministries, moved into a 1,500 square foot warehouse, and committed to regularly packing seven banana boxes full of food per week for a local pastor!
In 2011, we filled our first semi-truckload of food and shipped it to the White Earth Native American Reservation in Minnesota! This was a big deal and took about a month of planning.
From 2010 to 2019, we moved multiple times in leased warehouses. From 2016 to 2019, we were operating in a 16,300 square foot warehouse, and in August 2019, we purchased our first building—a 44,000 square foot warehouse on Becker Road in Leola, PA.
We started our first satellite location in Campbellsville, KY, in September 2020.
In March 2021, we purchased a 46-acre property on the east side of Ephrata, PA, where we are currently planning a 160,000 square foot food processing/ distribution center.
As we continue to expand the number of partner ministries, volunteers, and outreach opportunities, our goal is to become a "Bridge of Opportunity," helping to move people from poverty to a lifestyle that creates contributing, self-sustaining, hope-filled individuals.
We'd love to hear from you about how we are doing!