Blessings of Hope has accomplished so much in 2019. We know that we owe it to those who have supported our food bank and mission during the year, and to the blessings of our Lord.
Thank you to everyone who supported Blessings of Hope in 2019 by donating, volunteering, or sharing our message of hope. As a food bank, we rely on the goodwill and support from people like you to keep moving our mission forward. We also rely on growing our relationships with food distributors and other organizations that work every day to end hunger in the United States.
With your help, we distributed more food in 2019 than any other year! With over 13 million pounds of food distributed in 2019, we more than doubled our food distribution from calendar year 2018. Since we started tracking in 2011, we've distributed over 32 million meals and have blessed hundreds of thousands of families in need.
Our Growing2Feed Capital Campaign
To continue our growth, we have moved into a larger facility but need to remodel it to improve distribution and storage capabilities. We estimate our new, 43,000-square-foot facility in Leola, Pa. will enable us to distribute over 100 million meals (an average of one meal every 2.3 seconds) to low-income families in the first 8-10 years of operation.
Our Capital Campaign, Growing2Feed, is helping us remodel our new facility. Once renovations are complete, the newly remodeled facility will enable us to collect and store three times the amount of food than we could hold in our previous facility. This remodel will also allow us to store food dehydration equipment to preserve foods that would have otherwise been thrown away and ship these food internationally.
Events We Hosted in 2019
We participated in and held several events in 2019. These events helped us raise funds for our Capital Campaign, raise awareness to the mission of our food bank, and to grow our outreach efforts.
iCare Fundraiser– 5K Run/Walk, Children's Activities, Auction
VIP Evening Dinner Experience Fundraiser
Partnered with Sertoma Club of Lancaster to Sponsor World's Largest Chicken BBQ
NYC Outreach Programs
Extraordinary Open House – Celebrating ExtraGive
Our Current Programs
We have three ongoing programs at Blessings of Hope that help fight hunger in Pennsylvania and beyond. These programs and partnerships help us work towards ending hunger every day.
Unlike traditional food banks, we do not directly distribute food to the people in need, but we distribute to the organizations that do. We handle the collection and storage, and our ongoing programs and partnerships step in to help distribute the food.
Our ministry partnerships supply access to affordable food opportunities within communities all over the north east USA. The Truckloads of Hope program enables anyone who can gather a group of 10 to 12 volunteers to help get food into the hands of those in the community who need it the most. Our Hands of Hope program enables individuals to deliver boxes of food to those in need.
To learn more about how these programs help us work towards ending hunger, read our most recent blog post.
The Impact You've Helped Us Achieve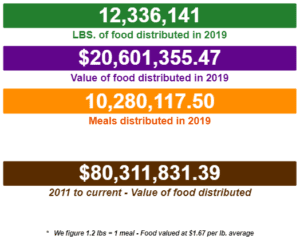 In 2019, we distributed more than 13 million pounds of food valued at more than 20 million dollars. That equates to roughly 10.2 million meals served in 2019. This past year we more than doubled our previous year's volume of food distribution, and we could not have done it without your help!
Since we started as a food bank in 2011, we have distributed over 32 million meals and blessed hundreds of thousands of families in need.
Our Events for 2020
We are currently planning several 2020 events and will have more details on those events as the year progresses. To keep up-to-date with our current and upcoming events, visit our events page or sign up for our newsletters.
Our 2020 efforts will continue our work towards ending hunger. As we work steadily towards reaching our Capital Campaign goal, we are thankful for all of God's blessings and your help. As of December 2019, we are 24 percent of the way to our Capital Campaign goal, and we will focus our efforts on pushing that goal forward in 2020.
Ways You Can Continue to Help Us Reach Our Goals
Both individuals and companies alike can make a difference in helping Blessings of Hope end hunger. Volunteering your time or donating to our cause are the two easiest ways you can help us fight hunger in the United States nationally and locally here in Pennsylvania.
We always welcome volunteers to help on our shopping days for ministry partners, our outreach programs, to help as truck drivers, and general assistance in our warehouse. Find out more information on our volunteer page.
You may not have time or workforce to volunteer, but a donation would still help us move our mission forward. Our food bank allows us to continue doing God's work to end hunger, and any donation you give will make a difference.
Help Us Make Our Growing2Feed 2020 Goals
Blessings of Hope is growing, and we need your help! Your financial support would enable us to take the next step in building a state-of-the-art facility that will glorify God and spread hope to families across our community and around the world! Find out more about our Capital Campaign and how you can help on our website.