Disaster Relief
For those of you wondering how you can get involved in any of our relief effort.   Here's an example:  On Dec. 12th  our team arrived on the ground in Kentucky to assess the situation and strategize what was be the best use of work teams in the area.
A few days ago (mid January) we started packing Hands of Hope boxes in Kentucky. Working steadily all day we were able to pack a total of 8 skids. The process is very different from our highly efficient packing line in PA where we can, if necessary, pack over 2000 boxes in a 3 hour shift. It definitely brought back memories of years ago when our packing was limited by lack of volunteers and equipment.
Aaron is now in charge of managing all the products at the fairgrounds and working with the National Guard for distribution. Families can order a box online according to their needs which can include hygiene products, baby formula, and diapers. One of our major tasks has been getting the rows and rows of products moved from the infield (outdoor receiving area) into warehouses or trailers. We are grateful beyond words to be able to serve this community.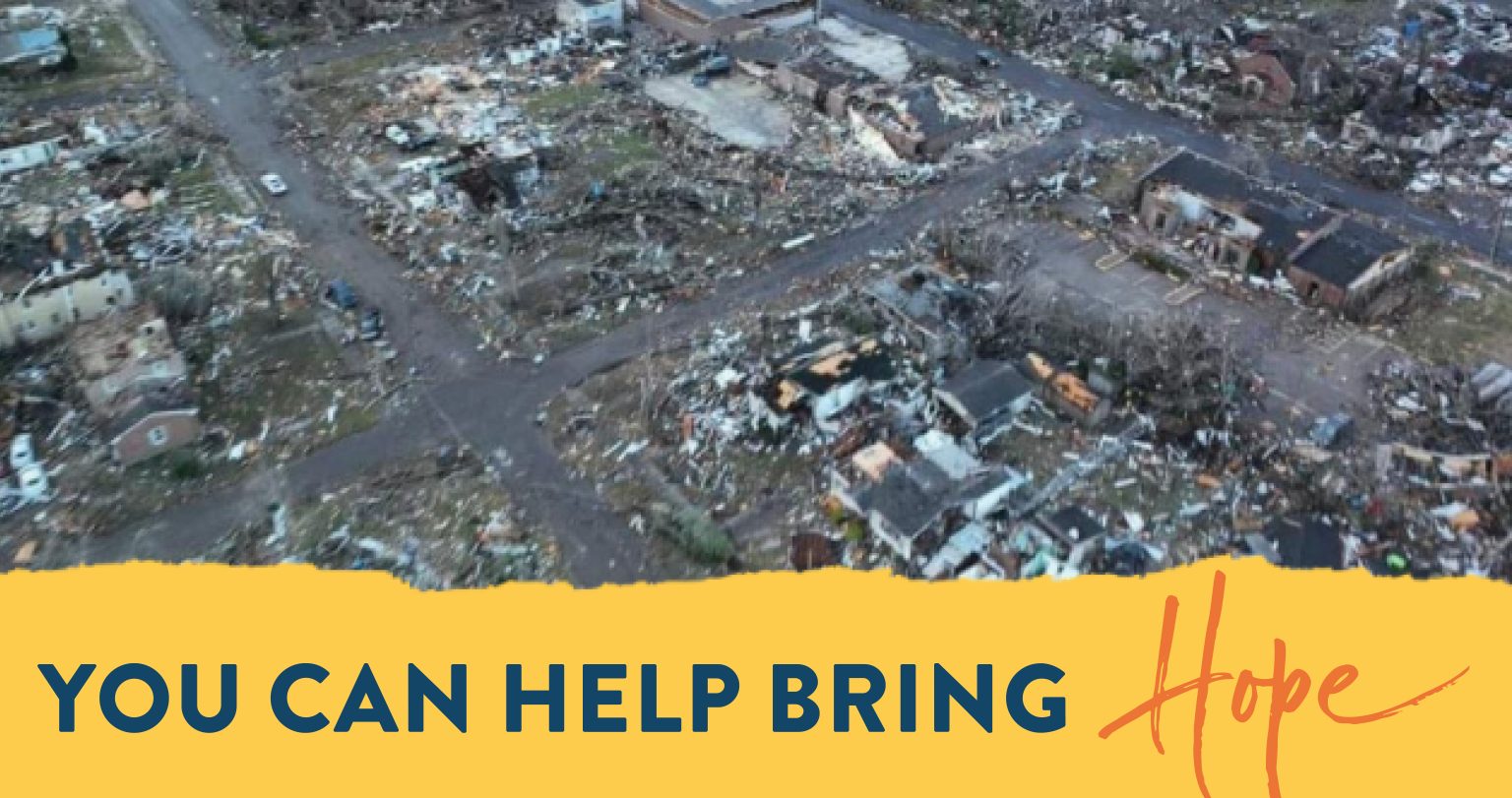 Blessings of Hope is working closely with Plain Compassion Crisis Response to bring a bigger relief effort to this region. Plain Compassion is managing the volunteers and aid resources and Blessings of Hope is managing the food relief efforts.
Donate using this link https://blessingsofhope.kindful.com/?campaign=1149106
Or mail a check to:
Blessings of Hope
PO Box 567
Ephrata, PA 17522
Attn: Disaster Relief
Ways to Get Involved
*Prayer
*Financial Support
– Donate to Blessings of Hope to cover costs of getting food delivered – Click Here
– Donate to Plain Compassion Crisis Response to help cover costs of bringing aid – Click Here
*Truck Drivers to haul food to KY – Durrell – 717-824-1227 – Ext. 108 – Driver needs are met. Thank you!
*Trucks and Trailers to haul food to KY – Durrell – 717-824-1227 – Ext. 108
*Volunteer Teams onsite – Through Plain Compassion – Click Here
*Skid lots of food items especially non-perishable, nutritious snack items or items that don't need to be cooked. – Durrell – 717-824-1227 – Ext. 108
All onsite volunteer opportunities will be directed by Plain Compassion Crisis Response, a Lancaster County, PA organization that deals with disaster zones. If you want to physically come to KY and help, please check out https://plaincompassion.org/
The ice storm closed us down on Thursday, Friday, and Saturday making things quite busy today. We are working with very few volunteers this week. 
Today we received 110 pallets of supplies, mostly from other outreach teams closing down and dropping the remainder of their supplies with us. This was a major influx of donations which were greatly needed since the supply donations are slowing down. We are grateful for every generous gift we are able to distribute to those still in need.
Today we did something a little different. We loaded a truck with food, toys, toilet paper, paper towels, and other toiletry items. Then we loaded a trailer with bikes, a minivan with diapers, and a pickup truck with blankets and followed the constable to a motel and 2 apartment complexes. We knocked on doors and told people we were there to bless them. They came out to the parking lot and it was definitely an amazing day. 
We gave food to a Grandma who is home 24/7 watching her grandson with heart issues. We gave toys to another Grandma to be gifts for her grandchildren that she couldn't afford to buy. A mother and father without a car were able to get birthday gifts for their daughter. Little children who had lost everything were given bikes and other toys. It was a highlight for many who were in need. 
January 20, 2022

We had a day of cleaning, organizing and resetting at the fairgrounds. We only had a few select volunteers so we didn't do any packing. Volunteers are a little low this week but we should still be able to operate well. 

Tomorrow we will give away blankets because we are experiencing a cold
snap. We will also be giving away toys. 
Last night a man who lost most of his possessions shared his story at our evening debrief:
When you wake up and your house is gone, both of your vehicles are damaged and after several weeks of gathering what you could find, it all fits in the back of a pickup truck–it takes a bit to get started again…..
December 24, 2021 – PM – David Lapp
Thank you for your support! Your donations help make this possible! Wow! $227,829 raised for disaster relief in less than 2 weeks! THANK YOU and Merry Christmas from everyone at Blessings of Hope and Mayfield, KY area that benefitted from your support!
Here is a short Thank you video from the Mayfield Kentucky Relief Center – https://www.facebook.com/ifeedbcicare/videos/4693560977408511/
https://blessingsofhope.kindful.com/?campaign=1149106
December 22, 2021 – PM – Barbie Fisher
Currently, Aaron Fisher is managing all incoming donations (Food, clothing, toys, etc) coming into Mayfield working with the local emergency management officials, and working closely with the people distributing them. It looks like we will be working in the Mayfield area for an extended period of time.
Our family was here in Kentucky managing food distribution since Dec. 12th.
Please keep our team in prayer as we serve the needs of the community and discern the level that Blessings of Hope will be involved long term.
Check out my latest Facebook video here. https://www.facebook.com/barbie.fisher.77/videos/904956327057407
December 18, 2021 – PM – David Lapp
As I reflect over the last week I am reminded of the thousands of people who are grieving the loss of a loved one. Of all the people whose lives were turned upside down in a matter of minutes, plans were changed in an instant.
Homes and possessions can be replaced, and this past week has been a week of people coming together from across this great nation with one goal in mind, to serve those affected by circumstances beyond their control. Thousands of people responded to provide HOPE in whatever way they could.
Maybe you provided hope by being there to help clean up the rubble, maybe you were the smile someone needed to see, maybe you are the wife who stayed at home while your husband traveled to the disaster zone to bring hope to those in need, maybe you were a truck driver who delivered a load of food, maybe you are a financial donor who empowered an organization or individual to respond. In whatever capacity that you were able to bring HOPE to someone this week, thank you!
Since last Saturday, Blessings of Hope was able to deliver over 270,000 lbs of food to help in disaster relief. 10 semi truckloads! Thank you to everyone who helped make this a reality. Your ongoing financial donations help keep our teams serving. At this point, we are planning to send a truckload of food per day through the end of 2021.
To donate to the ongoing costs of delivering food to disaster relief efforts, please donate here: https://blessingsofhope.kindful.com/?campaign=1149106
Or, mail a check to
Blessings of Hope
PO Box 567
Ephrata, PA 17522
Attn: Disaster Relief
December 15, 2021 – PM – Barbie Fisher
Our family has been in Mayfield, Kentucky since Saturday morning. I have kept quiet mostly because what is happening here is so huge. The mostly completely peaceful and undisturbed countryside and then suddenly a swath of utter destruction. I feel like the media has shared enough of the devastation so I took a video to attempt to show you what else is happening.
https://www.facebook.com/barbie.fisher.77/videos/980351042582040
December 14, 2021 – PM – Elsie Lapp
Here is an update on the last few days that we spent here in western Kentucky. We heard about the tornadoes as we were traveling to Indiana. Our travel plans changed as we were traveling as we felt we were to continue on west and go to Kentucky.
We have friends that own a resort 30 minutes from the worst damage. We came here Saturday night and this area still had no power. (By Sunday night it was on again.) On Sunday Jake and Nancy and Steve and I went on a tour to assess the damages done by the tornadoes. It was heart-wrenching to see the devastation. People outside of what used to be their homes trying to make sense of the chaos, sifting through the rubble, searching for valuables, etc. Already a lot of cleanup efforts was being done with neighbors helping neighbors.
On Monday morning the action started with truckloads of food coming. Jake's son Aaron and our son Ivan and Tony Kulp drove the first 2 trucks out arriving around 4 AM Sunday morning.
There's a fairground building on the outskirts of Mayfield that is the hub for food outreach. Yesterday 12 truckloads of food were unloaded in that location. Walmart donated 2 tractor-trailer loads of water and many many other stores, businesses, and individuals donated food and clothing, gas cans, generators, and building materials. Clothing outreaches are being done at churches in surrounding areas.
Plain Compassion Crisis Response has a command center here and we're helping them develop systems to connect resources with the needs. Hundreds of individuals, teams, carpenter crews, etc. are offering their time, skills, and equipment to make a positive difference in the lives of people whose life will never be the same! So we're lining all this up to help make everything work smoothly and efficiently! What a challenge but so rewarding when things flow.
Aaron Fisher (Blessings of Hope)and his family are here too. They're in charge of the flow of food coming in and going out. Those of you who know Aaron will understand when I say he's in his element!! We're hoping by tomorrow the systems will be in place enough that others can run them and Steve can troubleshoot remotely as needed. The resort center we're staying at will be housing and feeding many of the volunteers in the days and weeks to come. This is their off season so we greatly appreciate them opening their doors for this cause. It's wonderful seeing what can happen if each individual shares their gifts, talents and resources!! Our hearts are touched and we will continue to pray for Kentucky and the victims of this catastrophic event.
December 13, 2021 – PM – David Lapp
Here is a short video of people browsing for food in Mayfield, KY.
Thank you so much for your support! So far we raised over $100,000 for disaster relief.
Since Saturday noon, Blessings of Hope sent 6 semi truckloads of food to Kentucky from our warehouse in Leola, PA (5 to the Mayfield area and 1 to Campbellsville). There is also a load being picked up in Kansas to be delivered tomorrow.
We are planning on sending at least one truck per day this week, and if the funding keeps coming in, we will plan on going into next week as well.
Donate here: https://blessingsofhope.kindful.com/?campaign=1149106
Here is a link that WGAL aired this morning about Blessings of Hope.
Thank you so much, the need for drivers is met.
You can get all the latest updates at www.blessingsofhope.com/relief
https://www.wgal.com/article/blessings-of-hope-needs-commercial-drivers-to-help-tornado-victims/38501227
December 13, 2021 – AM – David Lapp
Thank you so much for your generous support to Blessings of Hope in the disaster relief efforts. Your support is greatly appreciated.
Due to overwhelming response, we currently have more offers for truck drivers than we can accommodate.
Thank you so much for offering your services.
We sent 3 loads to KY that got delivered yesterday, and 2 more loads last night that should arrive today. Our current plan is to send at least one load per day this week and 2 loads on Thursday.
We will evaluate if we can keep sending trucks next week if we can raise enough financial support to keep them rolling!
To donate towards disaster relief, donate here https://blessingsofhope.kindful.com/?campaign=1149106or mail a check to
Blessings of Hope
PO Box 567
Ephrata, PA 17522
Attn: Disaster Relief
December 12, 2021 – PM – David Lapp
As I was entering Mayfield, KY this morning it was hard to imagine what lay around the next corner.
Other than the fact that the traffic lights were all out, there was nothing to indicate that something was wrong!
It is a beautiful, peaceful, December day with temperatures in the low 50s and the sun shining brightly. A very pleasant day. A thriving, friendly, clean, well-kept community until…… DEVASTATION!
Huge trees uprooted, semi-trucks, cars, and buildings thrown around like a 2-year-old had a temper fit, huge buildings gone or severely damaged. Trash EVERYWHERE.
Words and pictures don't do justice to the magnitude of devastation this town has experienced.
Then I started noticing other things.
People!
People giving out prepared food, clothes, operating heavy equipment, skidloaders, chainsaws, shovels, etc. and I realized that we still live in a very blessed nation.
Yes, the needs are unfathomable and the town is in ruin, BUT the display of love is very present. A community that gives is a community that thrives!
While we are still finalizing the response opportunities, you can check out our website for updates and more information. www.blessingsofhope.com/relief
Blessings of Hope is partnering with Plain Compassion Crisis Response and some local organizations to provide strategic relief efforts in smaller towns in the path of the tornado.
The focus of Blessings of Hope is to bring needed food resources to the area, the focus of Plain Compassion is to bring people willing to work and physical aid to the area.
If you are interested in volunteering your time in Kentucky, go to plaincompassion.org and fill out the online form stating how many people you want to bring, what equipment you can bring, and how long you want to stay and someone will be in touch with you to connect you with a specific need.
December 12, 2021 – AM – David Lapp
This morning around 4:00 AM the first 2 semi loads of food/water/relief items arrived in Mayfield, KY. There is a 3rd truck on the way down today, and 2 more leaving for Kentucky around midnight tonight with arrival on Monday.
December 11, 2021 – PM – David Lapp
We currently have 2 trucks that are loaded with disaster relief supplies leaving Blessings of Hope in Leola, PA headed to Mayfield, KY.
We also have a semi truckload of drinks from Edgerton, KS that need to go to Mayfield, KY. If you know of anyone traveling east with an empty trailer or anyone in KS or KY that would be able to deliver this load, please contact Durrell in dispatch at 717-824-1227 ext. 108
Your prayers and financial support keeps these trucks rolling. You can donate here https://blessingsofhope.kindful.com/?campaign=1149106
Thank you so much for your support!
December 11, 2021 – AM – David Lapp
As news breaks this morning about the terrible devastation that happened with this tornado that ripped through 6 states last night we are reminded of the opportunity/responsibility that we have to respond to these types of disasters.
The path of this tornado was only a few miles from our Blessings of Hope Ky. Campbellsville, KY warehouse, and our team in Campbellsville is responding this morning with what they have on hand. Daniel says he never saw this level of devastation in his life. Mayfield, KY (only a few hours from Campbellsville) was pretty well wiped off the map last night. We have ministries that were already serving that region and need resources.
We are working on connections and are planning on sending 2 truckloads of relief down today (Dec. 11), 2 loads on Sunday, (Dec. 12), and at least one load per day early next week.
Ways you can help carry out the mission of bringing hope to these people affected by a natural disaster.
– Pray
– Cash donations to cover our costs to distribute food. We have connections to a LOT of food and other resources but it takes money to distribute it.
– Truck Drivers – Call Durrell @ 717-824-1227 ext. 108
– Trucks and reefer trailers – Call Durrell @ 717-824-1227 ext. 108
You can donate here. https://blessingsofhope.kindful.com/?campaign=1149106
We are also set up to receive donations in over 60 different CryptoCurrencies. https://www.blessingsofhope.com/cryptocurrency/
Our cost to distribute a semi truckload of prepacked food boxes (936 boxes) delivered to Kentucky is a little around $11,000.00 – Each box contains an assortment of 35 – 40 lbs of food and can be delivered for less than $12.00 per box.
Disasters happen and Blessings of Hope is prepared to respond to these disasters in a way that brings hope in the form of food. Together we can shine the light of Jesus during these times of trial.
Get involved and donate to help us bring more food to those affected by life's circumstances beyond their control.
If you are a class A CDL truck driver and want to help, please contact Durrell in dispatch at 717-824-1227 ext. 108 and get added to our list of volunteer drivers to take food into disaster relief zones.
Any funds raised that are not used in this particular disaster will go into a 'Disaster Relief Fund' to empower us to respond rapidly to future disasters.
Please share this opportunity!