Pictured: Spooky Nook Sports delivered 1,080 food boxes to over 900 families in its parking lot on April 7, 2020. Blessings of Hope donated all of the pre-packed boxes and 30 Spooky Nook Sports team members volunteered to distribute them.
During this challenging time in the world, there is a lot of uncertainty and fear spreading from person to person. Schools and businesses have closed, everyone is staying home, and unemployment rates are soaring. Now, more than ever, food banks across the nation are working together to make sure all families are food secure despite the blow to the economy.
The Centers for Disease Control and Prevention (CDC) has released a massive amount of information regarding COVID-19 and how to cope right now, especially if you're struggling financially. Blessings of Hope is also working diligently to make sure we take every measure possible to keep hungry mouths fed during this difficult time. Keep reading to learn about what we're doing and how you can help.
What Blessings of Hope is Doing During the Coronavirus Outbreak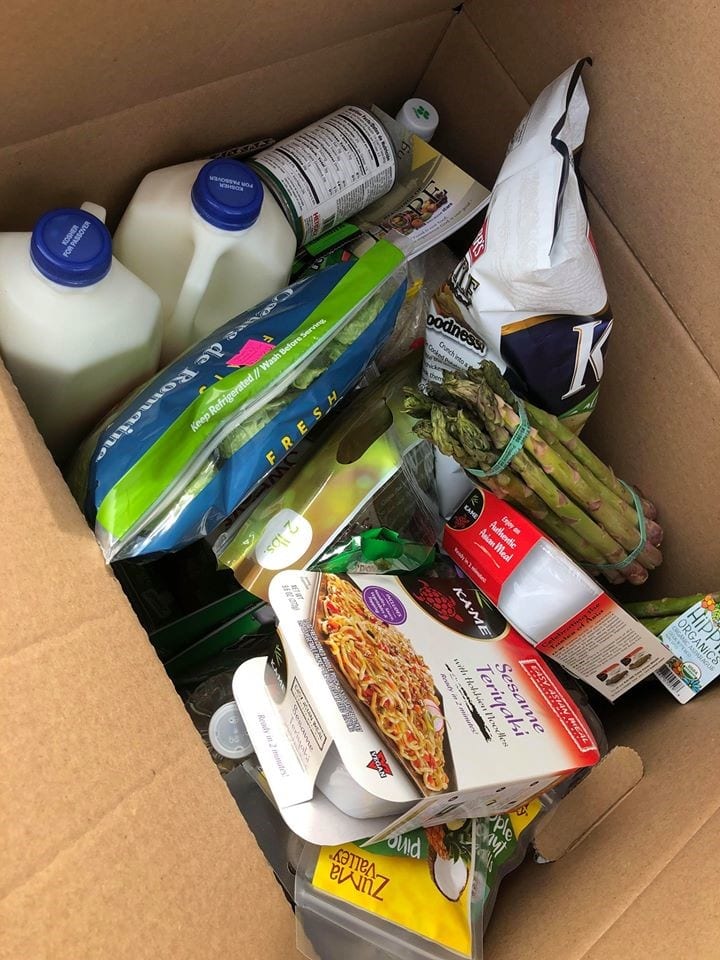 At Blessings of Hope, we understand how important it is to provide food to those in need, especially during the COVID-19 crisis. There are plenty of children who rely on their school food programs for food, and families that depend on our services to get by.
As a result, we've been working closely with Congressman Lloyd Smucker and Senator Ryan Aument to come up with the best action plans during the pandemic. We're updating our website and Facebook page as often as possible, and these are a few highlights on the changes we've made.
Drive-Thru Outreach
To avoid gathering in large crowds and maintain proper social distancing protocols, our team has implemented a Drive-Thru Outreach program. With this program, all food boxes are pre-packed, everyone needs a ticket, and we load up the boxes directly into people's vehicles as they drive up.
By pre-packaging all of our food boxes, we're able to control (to a certain point) the exposure we may face in-house, as well as exposure at food outreach events. The Lancaster County Emergency Manager agreed that this was a good plan for Blessings of Hope as we help fight the prevention of COVID-19.
Health Screenings
Another precaution we've taken during this outbreak is mandatory health screenings. Before anyone enters our building, an EMT or trained individual inspects them in our "Health Screening Tent." Each individual is then instructed to follow specific safety measures to keep everyone as safe as possible.
We're also taking other health precautions for staff and volunteers:
Mandatory hand-washing before starting work
Wearing gloves to handle food
Social distancing as much as possible while working
Additionally, we have graciously accepted the assistance of Dr. Weinstein from WellSpan Health to help us continuously conduct proper healthy safety practices.
Online Donations
As we pivot and shift our business to prioritize safety during this outbreak, we've implemented a simpler way to get food out into the community with online orders.
At $7 a box, people like yourself can donate right from the comfort of your couch. That $7 helps cover the costs to pre-pack a box full of 30 to 40 pounds of food and get it into the hands of those that need it most. There are three options you can choose from when you make an online order:
Warehouse Pickup: You can order as many boxes as your vehicle can carry, and we'll load up your car at our warehouse in Leola, Pa. You'll then be free to distribute them to any family or families you know could use them.
Delivery: For an additional fee, you can have our volunteers deliver boxes within 100 miles of Leola. If you order 100 boxes or more, delivery is free. Please call (717) 466-1551 for a quote.
Sponsor: You don't have to do anything except donate—our team will use your generous donation to cover the cost of boxes. We'll distribute the food to inner-city areas and harder to reach places that need help.
How You Can Help Lancaster County Families
It may come as no surprise, but the easiest way for you to help local families during this pandemic is to donate to food banks like Blessings of Hope. By staying home and making an online donation, you help to reduce the risk of virus spread, but also help cover the costs of distributing pre-packaged food boxes.
While you may want to help by donating canned goods, please note that we never have a hard time getting food—just the financial support to get the food where it needs to go. We often have so much food that we (sadly) have to send some to the landfill. When you choose to order boxes of food online or donate funds, we're able to feed hungry mouths right here in the Lancaster County community!
For more updates on what Blessings of Hope is doing during the pandemic, check our COVID-19 page and follow our Facebook page!